Our Community Dining
Enjoy restaurant-style dining at Morning Pointe of Tuscaloosa. Our chef-prepared, delicious and nutritious meals always reflect the particular tastes of the region highlighting local food and flavor with each changing season. Our culinary team makes it their personal goal to create the special meals our seniors have grown to love meeting their changing tastes and special dietary needs. Wonderfully presented meals with regular alternates encourage residents to enjoy their dining experience with friends and family. Learn more about our Farm to Table program.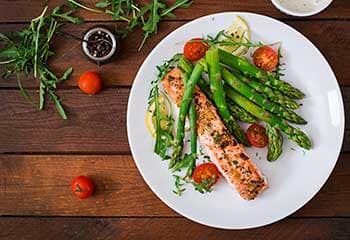 Dining with Dignity
In our Lantern memory care program, we offer a Dining with Dignity program. For residents with vision challenges or impaired depth perception, we provide our special white towel service and brightly-colored dinnerware to enhance the dining experience. We also encourage the use of dining scarfs for ease and elegance. A finger food menu is also offered to meet the changing abilities of our seniors today and in the future while encouraging independence.
We want you to look forward to dining with your friends and family at Morning Pointe of Tuscaloosa because great meals can lend themselves to creating some of life's most memorable times.
Join us at mealtime and experience our fine dining for yourself.