Tuscaloosa Alzheimer's and Memory Care
Living with Alzheimer's disease and dementia is challenging on a multitude of levels. At Morning Pointe of Tuscaloosa, we're here to alleviate some of those stressors by providing a specialized memory care community crafted specifically for those suffering from memory loss. Here, we combine the knowledge of our professionally licensed caregivers and staff with innovative technology and life enrichment programming. Every aspect of our Tuscaloosa, AL, memory care community, from the layout of our apartment homes to the color of the paint on the walls, is designed to engage, comfort, and stimulate your loved one, emphasizing independence for a higher quality of life.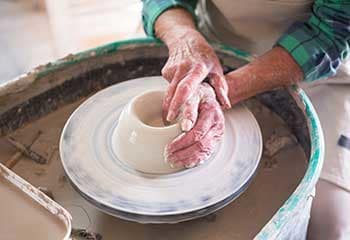 Create Meaningful Days
Our primary focus at Morning Pointe of Tuscaloosa is to help our residents live fully and to the best of their abilities. In that spirit, we have developed Meaningful Day, a unique approach to memory care that focuses on each person's interests and life experiences. We invest the time and attention in understanding prior roles, routines, and interests for a truly individualized plan of care.
SimpleC
To complement our Meaningful Day programming, we also employ the use of SimpleC Companion™, an intuitive touch-screen device that promotes memory, engagement, and better communication for seniors living with memory impairment. This device is paired with SimpleC's Community Connect and Care Portal to provide rich visual cues, such as family photos and places of interest that will resonate with the individual and form positive associations for improved memory.
For more information on the dedicated memory care services at Morning Pointe of Tuscaloosa, please contact us today.